MINMIDT WORKING VISIT TO DOUALA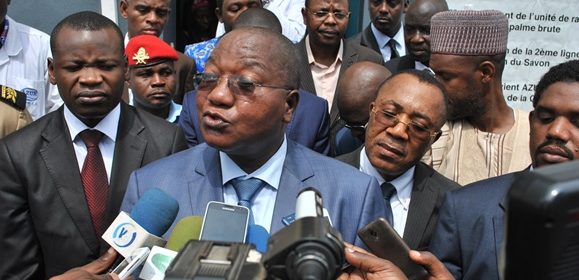 The Minister of Mines, Industry and Technological Development ERNEST GBWABOUBOU, conducted a visit of 04 days in the city of Douala.
During this descent on the ground the Minister of Mines and his Secretary of State visited the installations of the IBI plant on Monday, December 04, 2017 followed by a guided visit of the company AZUR S.A.
The Day of Tuesday, December 05, 2017 the MINMIDT visited Project GREENFIL, which has been identified, as one of the PDI agro-industrial sanctuaries.
It is located in the area of YABASSI and covers 11 villages. It is a new agroindustrial oil palm complex comprising an industrial palm plantation of 15,000 ha, village plantations under contract for at least 1,500 ha, and three (03) processing plants with a capacity at term 60,000 tons of crude palm oil and 8,500 tons of palm kernels, for a total cost of 70 billion FCFA.
It should be noted that this project is an initiative of the NANA BOUBA GROUP, a company 100% owned by Cameroonians, and including 03 industrial processing units including AZUR SA (manufacture of household soap and refined palm oil) ), IBI SA (a new plant for the manufacture of soap exclusively dedicated to export), and SAGRI SA (manufacture of double concentrated tomato known under the trademark "NEIMA").