BATOURI WORKSHOP ON THE NEW MINING CODE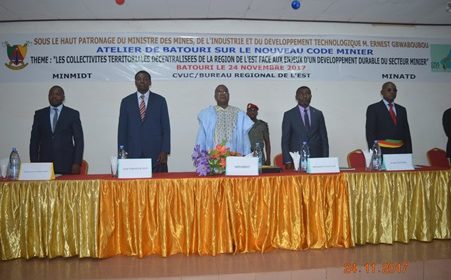 The Minister of Mines, Industry and Technological Development, Mr. Ernest GBWABOUBOU chairs this Friday, November 24, 2017 in Batouri in the Eastern Region, a sensitization workshop and impregnation of municipal magistrates on Law No. 2016 / 017 of December 14, 2016 concerning the mining code.
This workshop on the theme "Territorial Communities in the Eastern Region facing the challenges of sustainable development of the mining sector", is organized by the Association of Communes and United Cities (CVUC) regional branch of East-Cameroon, aims at a better appropriation of the contents of this new Mining Code.
The general objective is to enable local elected representatives as well as administrative authorities to become involved in local government policy aimed at making the mining sector one of the levers for the economic recovery and the growth of the economy. our country.