Concept Note: Discovery of over 300 new mineral occurrences and the 3rd Edition of Cameroon International Investment Mining & Exhibition Conference (CIMEC 2019 -2nd to 4th September 2019)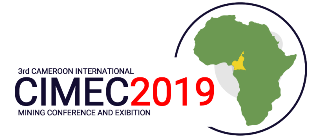 Cameroon International Investment Mining & Exhibition Conference 2019
CONCEPT NOTE
Discovery of over 300 new mineral occurrences and the 3rd Edition of
Cameroon International Investment Mining & Exhibition Conference
(CIMEC 2019 -2nd to 4th September 2019).
  Recent findings after five years of work by the World Bank and the Ministry in charge of mines, the discovery of over 300 new mineral occurrences in Cameroon. Through Aeromagnetic and gravimetic surveys followed by geochemical and geological studies with over 18,0000 samples collected, significant occurrences of diverse minerals ranging from gold, Co, Ni, Mn, basemetals, Rare earth elements  Uranium Rutile and many others were identified in five regions of the Country. Before September the number of new occurrences as per estimates by the World Bank will largely exceed 500 in the five regions while awaiting final results from two other regions.
Details of this great discovery, the largest since independence will be made available by the World Bank sponsored project Precasem in the 3rd edition of the Cameroon International, Investment Mining and Exhibition Conference. It will be an opportunity to show case our computerized mining Cadastre and the above mentioned discoveries. These new mineral discoveries add up to the already great existing potential with Cameroon hosting the main part of the Central African Iron Ore Belt that stretches from  Congo through Gabon to Cameroon along which are found  World class iron ore deposits like the Mbalam ( Sundance of Australia), the Nkot  iron deposit (Caminex) the  mamelles iron ore of Kribi (Sinosteel of China), the largest lateritic Cobalt- deposit in the world at Lomie (Geovic) the Rutile of Akonolinga, the 2nd largest bauxite reserves in Africa (Minim martap).
The International Conference under the high Patronage of the President of the Republic will bring together many top mining companies and specialists of the Mining and Quarry operator sectors, Government and World Bank officials, financial Institutions, insurance companies, laboratories and drilling companies under the theme:
New mining opportunities in Cameroon. Evidence of more than 300 new mineral occurrences presented by the World Bank and the Ministry of Mines, Industries and Technological Development.
The conference will also showcase the revised investor friendly Mining Code and other sectoral incentives offered by the Cameroon Government to Mining Companies.
I am therefore specially inviting you to be part of this great event in the mining History of our Country.
For registration please go to the CIMEC website: www.cimec2019.com or contact the CIMEC 2019 Manager, Mr. Lewis E.B at the following address: Phone Number: +237 242849839, Email: info@cimec2019.com. For all technical and administrative enquiries, consult the ministry's website www.minmidt.cm or directly contact Mr. Boyogueno Serge Hervé, Director of Mines, Coordinator CIMEC 2019, phone number: +237 665 659 723, E-mail dm@minmidt.cm.